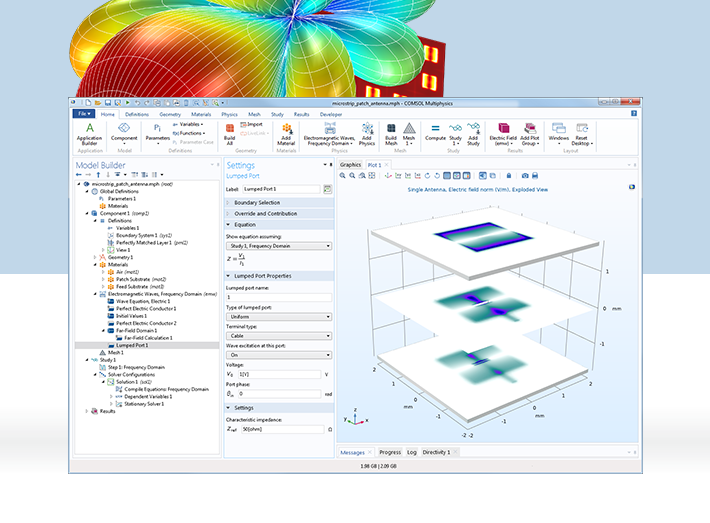 English version here
Du inviteres til at deltage i modelleringsdag på AU - en dag med multifysik, mini-kurser, indbudte talere, og mulighed for at udveksle ideer og erfaringer med andre simuleringsspecialister.
Som beslutningstager eller generelt interesseret i hvordan en simuleringsbaseret udvikling kan udnyttes, er specielt seminardelen fra kl 10 til 12 relevant.
Tilmeld dig hele eller udvalgte dele af dagen gratis i dag.
Programmet er foreløbigt, annoncering af gæstetalere bliver opdateret løbende.
Schedule
08:00
Registrering og morgenmad
08:30
Morgen session - Parallel
Introduktion til COMSOL Multiphysics for nye brugere (mini-kursus)
Lær den fundamentale arbejdsgang for opsætning af en model i COMSOL Multiphysics®. Vi ser kort på alle simuleringsfaser fra geometri til opsætning af fysik, netgenerering, samt løsning og postprocessering. Sessionen afsluttes med at bygge en simpel app i Application Builder.
Nyheder og "best practice" for eksisterende brugere (mini-kursus)
Nyheder og "best practice" for eksisterende brugere (mini-kursus)
Kom og oplev nyhederne i den seneste version af COMSOL Multiphysics® og COMSOL Server™. Du får et overblik over de mange nye kernefunktionaliteter, samt tilføjelser og forbedringer i de forskellige moduler.
Focus er på tips til "best practice" i alle dele af modelopbygningen.
10:00
Seminar: Simuleringsbaseret udvikling med virtuelle prototyper
Hvad er det og hvad kan vi få ud af det?
Tips og tricks til COMSOL Multiphysics og Application Builder samt hvordan man gør den viden, der ligger i modellerne, bredt tilgængelig uden at alle skal uddannes til simuleringseksperter.
Kaffepause
Sammen med en række indbudte talere lægger vi op til en diskussion af, hvordan man kan udnytte simuleringer dels i udviklingsafdelinger dels i undervisningen.
12:30
Session 1 - Parallel
Elektromagnetisme Mini-kursus
Udforsk mulighederne indenfor simulering af høj- og lavfrekvent elektromagnetisme samt bølgeoptik og lidt om ray tracing. Vi kigger bl.a. på: Induktorer, kapacitorer, roterende maskiner, antenner, filtre og bølgeledere.
Meshing Mini-kursus
Lær at udnytte de mesh teknikker, der findes i COMSOL Multiphysics. Vi kigger både på hvordan du kan justere parametrene i et ustruktureret net, samt hvordan man kan udnytte mere avancerede teknikker, som swept- og adaptive meshing.
14:00
Session 2 - Parallel
Fluidmekanik (CFD) og varmetransport Mini-kursus
Udforsk mulighederne indenfor fluidmekamik (CFD) og varmetransport for hhv. stationære og transient strømninger. Vi ser på laminare, turbulente, enkelt- samt flerfase systemer.
Vi ser på koblingen til varmetransport ved konvektion, ligesom vi kigger på varmeledning og stråling.
Kemiteknik og elektrokemi Mini-kursus
Udforsk muligheder indenfor simulering af kemiteknik og elektrokemiske processer vi ser bl.a. på reaktionskinetik, miksere, korrosion, elektroplettetering, batterier og brændselsceller.
Vi ser derudover på koblinger til forskellige typer strømninger (CFD), varmetransport og andre effekter, der er vigtige for at opstille og udnytte et realistisk virtuelt laboratorie.
15:30
Session 3 - Parallel
Strukturel Mekanik Mini-kursus
Udforsk mulighederne indenfor Strukturel Mekanik for stationære, transiente og frekvens domæne simuleringer. Vi ser på lineære, ikke-lineære materialer, multibody- og rotordynamik samt udmattelse og koblingen til andre fysikker – multifysik.
Optimering Mini-kursus
Har man opbygget en virtuel prototype, er det oplagte næste skridt at udføre hvad-nu-hvis forsøg og optimering. Vi ser på baggrunden og opsætningen af forskellige typer af optimering og parameter estimering, som er anvendelige til stort set alle typer af modeller.
Register for COMSOL Dag Aarhus
This event has ended. Visit the event calendar to view upcoming events.