Amphos 21 Consulting
Since 1994, AMPHOS 21 has offered its services in the areas of scientific, technical, and strategic environmental consulting. Our headquarters are in Spain, with additional offices located in Chile, Peru, and France.
Specialized Markets
We specialize in offering consultancy services related to the following markets:
Nuclear and industrial waste management
Mining
Water resources and hydrogeology
Geosciences and geochemistry
Carbon capture and storage
Oil and gas
Environmental management and energy
Civil engineering
Available Services
AMPHOS 21 provides access to a variety of specialists with high levels of technical proficiencies to meet the needs of a dynamic and increasingly specialized market. In addition to our advanced computational modeling abilities, we are proficient in running studies of site characterizations, executing and monitoring hydrogeological exploration, and performing laboratory studies. Our consulting group services the market through a tight synergy between our expert scientists and our experienced modelers. The scientists have extensive knowledge in areas such as chemistry, geochemistry, hydrogeology, and physics, while the modelers hold strong backgrounds within mathematics, physics, and computer science.
Areas of Expertise
Our main fields of expertise within simulating multiphysics and coupled processes include the following:
Hydrogeology
Geochemistry
Chemistry
Multiphase flow simulations

From large reservoirs to the pore/fracture scale

Nonisothermal multiphase reactive transport

Near-field evolution of engineered barrier systems
Large-scale reservoir behavior

Reactive transport

Coupled thermo-hydro-chemical analyses

Thermo-hydro-mechanical-chemical

Modeling of coupled processes in geosciences and engineering

Computational solid mechanics

Plasticity, damage, and fracture mechanics

High-performance computing (HPC) and advanced computational analyses
Development of tailor-made physics user interfaces in COMSOL Multiphysics
Inverse parameter estimation and sensitivity analysis
Featured COMSOL Multiphysics Projects
Below are examples of our COMSOL Multiphysics simulation projects.
Model of groundwater flow across a rock vault for low and intermediate level radioactive waste: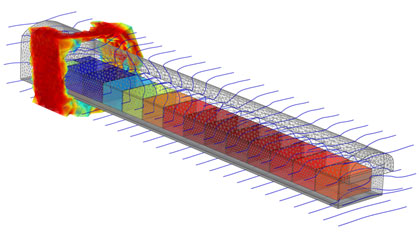 This image depicts the water head in the waste compartments, flow streamlines, and hydraulic conductivity of the fractured rock surrounding the repository (isosurface plot).
Simulation of the reactive transport processes in compacted bentonite from a prototype experiment of a nuclear waste underground repository: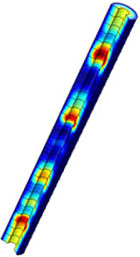 This model shows the unit fraction of sodium occupancy in the cation exchanger of the bentonite column after six months of hydration and heating.
Model of a pit lake flooding after the closure of a mine: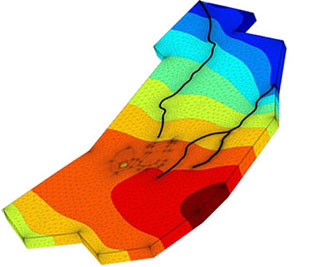 This image shows the water head distribution in a 3D hydrogeological model involving several geology strata, two rivers, and water recharge conditions.
Model of the large-scale dewatering of a mine, created using the Subsurface Flow Module:
This illustrates the steady-state groundwater pressure head as well as the hydrogeological impact produced by mine dewatering.
Address & Contact Information
SPAIN
AMPHOS 21 CONSULTING, S.L.
Paseo de García Faria, 49-51
08019 BARCELONA
Tel.: +34 93 583 05 00
www.amphos21.com

CHILE
AMPHOS 21 CONSULTING CHILE Ltda.
San Sebastián 2839, of. 701-A
Las Condes, 7550180 SANTIAGO DE CHILE
Tel.: +56 2 7991630

PERU
AMPHOS 21 CONSULTING PERU, S.A.C.
Av. del Parque Sur 661, San Borja
Lima 41
Tel.: +511 592-1275

FRANCE
AMPHOS 21 CONSULTING FRANCE SARL
14 Avenue de l´Opéra
75001 PARIS
Tel.: +33 1 46946917