Your Chance to Exhibit at the Multiphysics Event of the Year
My colleagues have been talking about the upcoming user's conference in relation to attending and presenting. Now I would like to draw your attention to another aspect of it: your opportunity to exhibit at the multiphysics event of the year. The exhibition and poster areas are the focal points of the event, buzzing with activity and networking opportunities. As a sponsor, your exhibition booth will be right in the middle of it all. If you're hoping to meet prospects and establish contacts from a wide range of industries, research organizations, and academia, read on.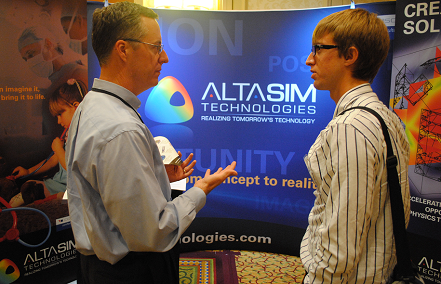 AltaSim Technologies at the COMSOL Conference 2012.
Who You Will Meet and What You Will See at the Multiphysics Event
In a nutshell, the COMSOL Conference is a gathering of engineers and scientists from a broad spectrum of industries, unveiling state-of-the-art achievements in multiphysics simulation. This occasion provides a valuable opportunity for you to meet one-on-one with representatives from leading technological companies, research institutes, and the academic world. Convey your message about your products or services directly to knowledgeable buyers of new technology. In other words, you get to interact directly with those who are shaping tomorrow's technical world.
What the Sponsorship Entails
We distinguish between two levels of sponsorship: silver and gold, each with a different level of promotion. Choose between being in full view of a large audience and visible on take-away material, or go for the exhibit and logo placements that you receive as a silver sponsor. Whichever option you choose, you are guaranteed to be seen.
| Package components | Gold | Silver |
| --- | --- | --- |
| Logo on printed invitation | | |
| Logo on Final Program | | |
| Logo on Sponsor signage at registration area | | |
| Flyer/brochure in attendee welcome kit | | |
| Logo/link to company description on opening page of Conference User Presentations | | |
| Logo/link on Conference Website | | |
| 6 ft table top exhibition area | | |
| 4 full conference registrations | | |
| 2 full conference registrations | | |
Conference Dates and Locations
This will be our 9th annual user's conference highlighting work in the field of multiphysics modeling and simulation. This year we are expecting it to be our biggest multiphysics event yet, with about 500 registrants at each of the main locations. The program includes minicourses, user presentations, exhibitions, and more. The conference will make stops around the world:
Singapore, Singapore: October 24-25
Seoul, Korea: November 15
Tokyo, Japan: December 6
So…How do I register as an exhibitor?
We have made it very easy for you to register for an exhibition spot at the event. On each of the location-specific webpages you will find a program section with a downloadable registration form — simply fill it out and submit it.
---
---
|
© 2017 by COMSOL Inc. All rights reserved