Report from the International Supercomputing Conference
In June it was time for the International Supercomputing Conference (ISC) in Leipzig, Germany. Many of the largest hardware and software vendors for High Performance Computing (HPC) were there to present new equipment, and the latest TOP500 list, a list of the fastest supercomputers, was presented as well. In a world where we continuously demand faster computations and higher resolution in our models, it's not only necessary to have better hardware; we also need software that can handle the ever-growing computational capacity that's made available to us.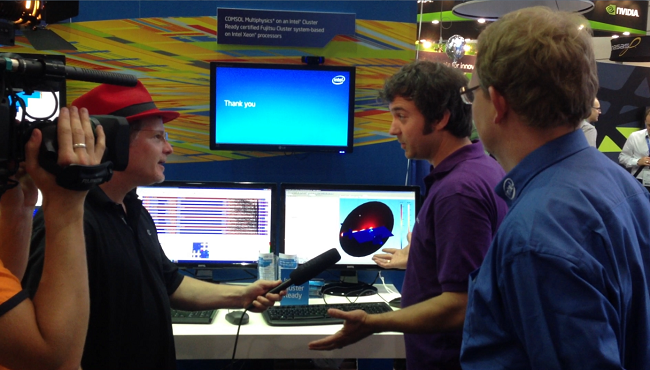 COMSOL at the International Supercomputing Conference
As we have in previous years, this year we were at the International Supercomputing Conference, showing how you can use COMSOL Multiphysics® to carry out high-performance computations on clusters and shared memory machines. This year we had more to show than previous years, namely, our new Intel® Cluster Ready certification and our recently started joint project with Fujitsu Technology Solutions, the ict GmbH Ready-To-Go+ (RTG+).
What does "Intel® Cluster Ready" mean? Basically, it means that COMSOL Multiphysics is guaranteed to install and run on all clusters that are Intel® Cluster Ready certified. What the Intel® Cluster Ready certification means in practice is probably best explained by Ullrich Becker-Lemgau from Intel and Winfried Geis from COMSOL in an article titled "Intel Powers COMSOL Multiphysics at ISC'13" and video (below) from insideHPC.com.
Ready-To-Go+
RTG+ is a pilot cooperation between COMSOL and Fujitsu that will help German users of COMSOL take a step into the world of HPC. RTG+ creates the possibility to buy hardware-software-service bundles with clusters where COMSOL is benchmarked and installed — running out-of-the-box, in other words. This means that you don't need to waste time setting up your own cluster from scratch. Instead, it's possible to start computing larger models from the moment you plug your RTG+ solution into the power socket. Thanks to COMSOL's client-server architecture it's also possible, as illustrated in the video above, to set up the model in an operating system you are used to and then let the computation run on the cluster. This means you will never need to leave the environment in which you feel confident. All of this makes it easier for the user to utilize the huge potential of HPC.
We would like to thank everyone at the ISC'13 for a great conference and experience. Hope to see you all there again next year!
Intel is a trademark of Intel Corporation in the U.S. and/or other countries.
---