Now Live: MEMS and Piezoelectric Devices Showcase
We would like to welcome you to visit our brand new MEMS and Piezoelectric Device Showcase — a free, one-stop digital resource geared to inform you on the physics, applications, and industries as they pertain to modeling MEMS and piezoelectric devices. In the showcase, you will learn about a host of applications that can benefit from utilizing COMSOL simulation software. Rich content including videos, case studies, presentations, and example models are provided to help paint a clearer picture of everything that MEMS modeling entails.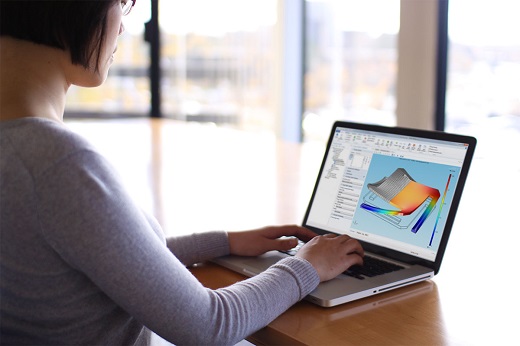 Learn About MEMS Modeling and Ask the Experts
You can use COMSOL simulation software to model nearly any type of MEMS application. The MEMS and Piezoelectric Device Showcase highlights an array of devices and components you can model in the COMSOL environment, including piezoelectric devices, sensors and actuators, resonant MEMS devices, ultrasonic transducers, RF MEMS devices, and BioMEMS.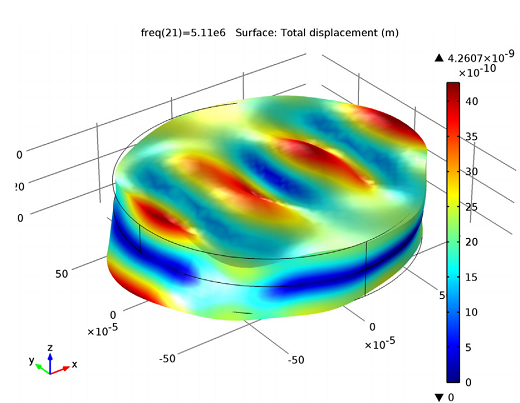 Example model of an AT cut quartz crystal showing the crystal displacement at its resonant frequency of 5.11 MHz.
At the very bottom of the showcase, you can ask the experts any questions you may have regarding modeling MEMS devices. Simply fill out a short form and your questions will be sent straight to our application engineers who are eager to explain how you can use COMSOL software to help understand, develop, and optimize your MEMS and piezoelectric devices.
Videos, Models, Case Studies, and More
To complement each of the application areas covered in the resource, we have compiled rich content to further help you comprehend how multiphysics simulation can improve your MEMS device designs. In addition to checking out example models, you can read first-hand accounts of world-renowned companies who have used modeling as a means to improve the design of their devices. Or watch a recorded webinar that provides a catch-all on MEMS modeling. We also provide video tutorials for your viewing, with step-by-step instructions on how to model specific MEMS devices, like capacitive pressure sensors and tonpilz transducers.
Access all these free resources and find out how you can leverage modeling and simulation in the MEMS and Piezoelectric Devices Showcase. Enjoy!
---