COMSOL Releases Version 4.3 Today
Yesterday was a big day as we officially released the new version of COMSOL Multiphysics, version 4.3. This will be shipped towards the end of May, and customers should be receiving it in the beginning of June. It's an exciting release as it involves three new products as well as a large number of improvements to the core software and most of the modules.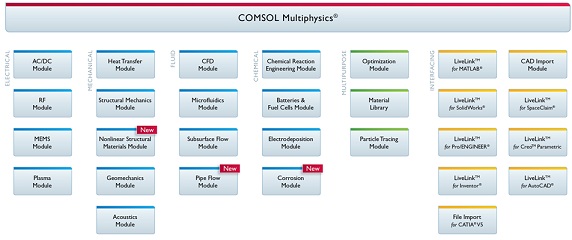 Yesterday involved a press meeting where the software was presented to a number of magazines. They and others received our press release (COMSOL Multiphysics Version 4.3 Now Available) and were pointed to our image gallery. We're looking forward to seeing this all showing up through the next few months.
Many of you have already been drawn to the fact that version 4.3 is on its way and seen a summary of the new products, features and enhancements on our 4.3 Release Highlights page.
The press release not only mentions the developments that have been included in the new version, but also touches upon how they came about. User input has been an important part of the development process and has led to improvements in the core software, such as fast meshing; requested new features, such as 3D rotating machinery support for motors and the like; as well as new products like the Nonlinear Structural Materials Module.
The new version should really add to your modeling capabilities.
---